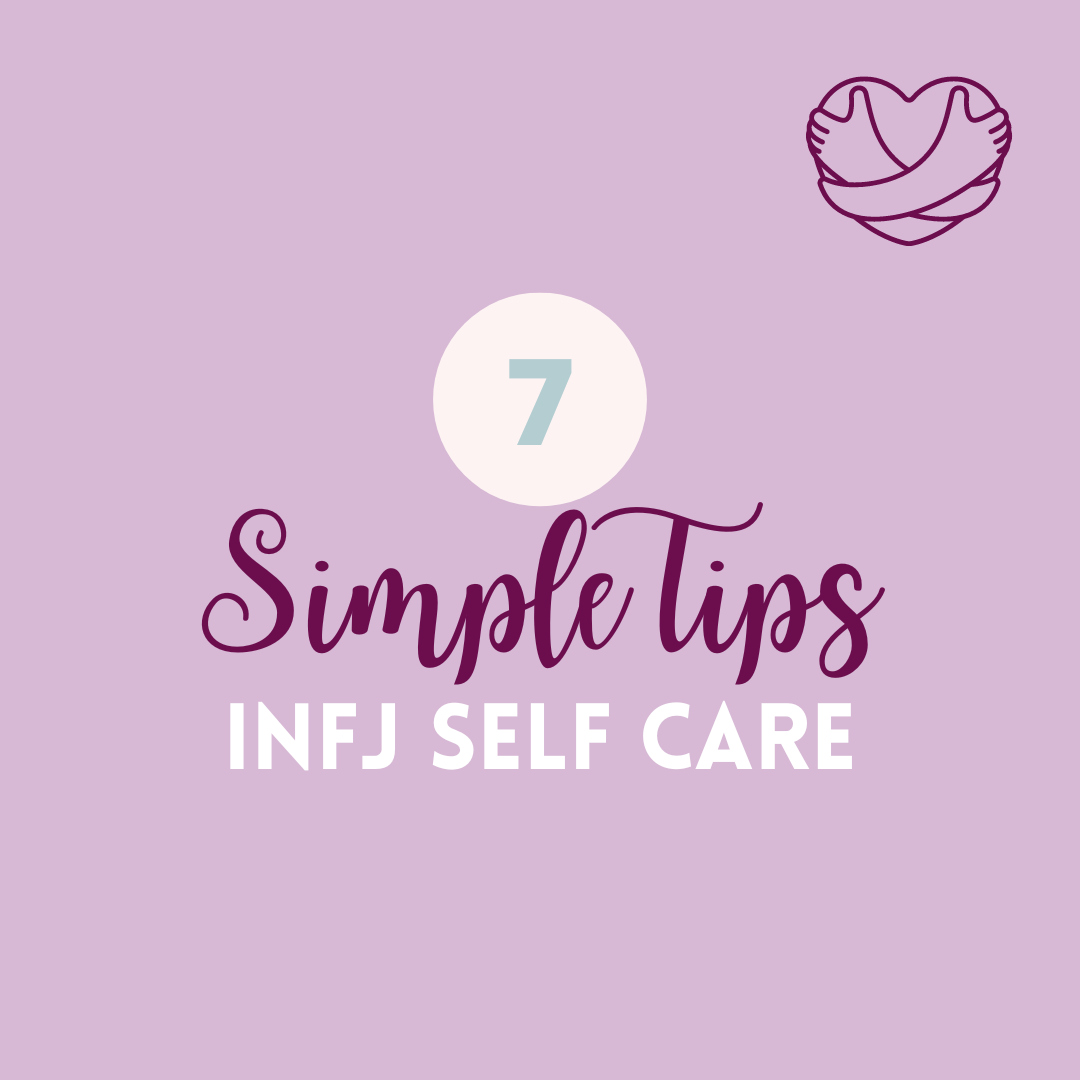 7 Simple Tips for INFJ Self Care
What does INFJ Self Care look like?
Oftentimes, the INFJ personality type knows how to take care of others but they need to learn how to prioritize taking care of themselves. INFJ self care is critical for the well-being of an INFJ in an overstimulating external world. As a highly sensitive person, an INFJ has the risk of feeling overwhelmed by emotional exhaustion.
In this article, you will learn 7 easy tips for effective self-care for an INFJ.
In today's fast-paced world, it's easy to get caught up in the demands and responsibilities of everyday life. It's essential, however, to take time for yourself, reconnect with your needs, and foster a sense of balance and harmony.
Remember, self-care is not a luxury but a necessity. It is a gentle reminder that your well-being matters. Embrace these tips to help you on your journey toward self-discovery, self-compassion, and self-love through self-care.
Tip 1: Prioritize Alone Time
Most INFJs have a high need for solitude in order to have enough time to satisfy their own needs for introspection. Alone time is useful to clear away the subconscious buildup. It is so helpful for INFJs that I recommend incorporating a daily ritual where you can spend time just being.
Prioritizing alone time for an INFJ is SO important because the combination of introverted intuition (Ni) and introverted thinking (Ti) as the first and third cognitive functions of an INFJ leads to this personality type always thinking on overtime.
To create alone time in your daily life, consider implementing routines into your own schedule. For example, a healthy morning routine for an INFJ might include a guided meditation shortly after they wake followed by some morning reading/journaling time with a hot cup of coffee/tea.
Or a daily walk would even be a great healthy morning routine. Making alone time some sort of daily routine will make it hard to forget about and therefore easy to do regularly.
A morning routine would particularly be helpful as it will set the entire day up for success with a clear mind. This kind of self-care will really pay off beyond the time invested.
Most INFJs tend to prefer more alone time that most people would expect, but you have to remember that they are introverted at their core and definitely recharge their energy through relaxed rest and focus.
Tip 2: Practice Emotional Boundaries
INFJs are very empathetic individuals and have a tendency to absorb emotions and stress from others, especially when they listen to others talking. Having energetic boundaries is an important protection for this personality type.
In their relationships, INFJs must be careful to separate and clearly understand what their responsibilities are and what they are not. They must resist taking on the savior complex and wanting to over help others because of their second/parent function of extroverted feeling (Fe).
As INFJ matures, they will recognize that they can be easily influenced by the energies of others which includes good and bad feelings. Empathy is second nature to this type.
A healthy INFJ might feel guilty as they learn how to practice emotional boundaries, but it will get easier with practice. Boundaries will help them to be a better friend and relative to their friends and family.
What this might look like is the INFJ tuning into their inner voice for when to say no, when to express anger, and when to distance themselves from individuals or situations that are draining rather than enjoyable. This kind of respect is a gift of self-care to themselves and will lead to lower stress and healthier relationships.
Tip 3: Engage in Creative Outlets
INFJs have a very creative nature to them because they have such a rich inner world. Their mind is always processing information and consuming is automatic. In order to balance that nonstop intake of information, INFJs need creative projects to express their emotions.
Expression is absolutely a cure for depression. Some creative activities to consider experimenting with include painting, writing, playing music, or video editing. Basically, anything that allows a person to focus on transforming thought into material reality.
A creative project will really fuel the soul fire of an INFJ. I even think that INFJs are a personality type that needs creativity expressed in their lives to stay healthy-minded.
Scheduling time regularly, whether it is weekly or even daily, will be a very pleasurable activity for an INFJ and serve as a fun self-care activity that they will look forward to.
Tip 4: Establish a Supportive Social Circle
The INFJ personality type thrives in community, so it is important to seek and find like-minded individuals who spark joy in connection. INFJs need people that they can talk to in order to get out of their overthinking loops. Having a trusted family member or a close friend available is a great security to their wellness.
INFJs can find nurturing relationships in community-focused groups, such as through church or meetup clubs. It might take some time to meet the right kind of supportive friends, but once an INFJ finds people they really connect to, they won't need many to have those soul-satisfying friendships.
One good friend or a few close friends that truly understand, see, and support an INFJ will make them feel unstoppable in their personal pursuits.
The other Idealist personality types will be particularly awesome friends for an INFJ, which include the ENFJ Mentor, INFP Dreamer, ENFP Inspirer, or another INFJ Advocate. All the idealists will have fun talking to each other about mutual interests.
Tip 5: Embrace Nature and Mindfulness
INFJs will discover peace by connecting genuinely to nature and to the present moment.
Modern lives tend to spend way too much time indoors, so it is important to prioritize spending time outdoors regularly. You can implement this into your daily routine by walking daily or weekly exercise.
While outdoors, try to practice mindfulness exercises of deep breathing and environmental awareness. Focusing more on external sensations will tap into INFJ's fourth cognitive function of extroverted sensing (Se).
Psychosomatic health is very real and INFJs particularly need to prioritize experiencing and practicing the mind-body connection. Because they lead with introverted intuition (Ni), they have the largest potential risk for imbalance in their physical body.
Another way to think of this is that INFJs live in their mind very readily, which means that they must go out of their way to prioritize somatically experiencing their bodily sensations to tune into their physical body.
Spending time dedicated to activities that allow you to focus on mindfulness will help such awareness to become more automatic and natural.
For example, the next time you walk, eat, exercise, or listen to anything, try paying extra attention to sensual details of what it feels like to move and experience how your body feels at that moment. You could make it fun by trying to see certain things in new ways.
Thinking in the mind is the comfort zone of an INFJ, but feeling in the body is truly a path of growth as it will tap into the fourth aspirational cognitive function (Se) through vivid experience of the real world.
Tip 6: Set Realistic Expectations
INFJs have a tendency to strive for perfection and to overcommit to a certain idea of standards. Being more realistic will help to relieve the pressure that an INFJ could put on themself.
Grace and forgiveness go a long way to multiply satisfaction, joy, and happiness.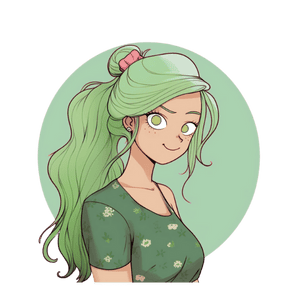 Sometimes it's totally okay to just give yourself a break, relax, and indulge in your favorite song or tv show. Those would be some more traditional ideas of self-care.
But basically, you don't need to accomplish everything immediately in the same way that a city is not built overnight.
Because of the blindspot of extroverted thinking (Te) in their seventh spot for their cognitive function stack, INFJs aren't the most effective of the 16 personality types at systematic execution.
Most INFJs will have pretty clear explanations of their goals and life visions because of their lead (Ni), but their eyes might be hungrier than their ability to execute all that they want.
First off, trust that you are on your own path in perfect timing because that lead (Ni) really does pay off in the long run.
Secondly, it might be beneficial to learn from Te-dominant types on how to bring your visions into reality. (Such as the INTJ Mastermind, ENTJ Commander, ISTJ Inspector, ESTJ Supervisor)
Lastly setting realistic expectations is to go through the exercise of breaking goals down into parts and recognize step-by-step what needs to be done in order to make progress. Celebrate the small wins along the way and enjoy the process!
Tip 7: Practice Self-Compassion
How could I write tips for self-care without mentioning self-compassion?
Due to their deep desire for self-actualization and growth as an individual, INFJs can be quite self-critical. Other personality types do not criticize themselves as harshly as INFJs might. Seriously, an INFJ can tend to forget to have compassion for herself or himself.
One book I recommend to develop and practice self-compassion and self-acceptance is Mirror Work by Louise Hay. It is a 21-day program with daily affirmations to say to yourself in front of a mirror.
I can vouch that this super simple strategy worked for me and felt like innovative yet simple self-care.
Self-compassion and self-love are not just about feeling confident about yourself right now, but they also require that you truly accept yourself in your darker times when maybe you felt less lovable.
Forgive yourself for your mistakes and experience the grace of moving on. This type of practice is spiritual self-care that nourishes your spirit to not lose your light.
Bonus Tip: Seek Professional Support When Needed
Life has its seasons and every person has their limits. Everyone at some point in their lives could definitely benefit from professional help to learn how to emotionally process difficult life circumstances. Anybody, regardless of their personality type, should seek therapy or counseling as necessary when they are feeling stressed in overwhelming situations.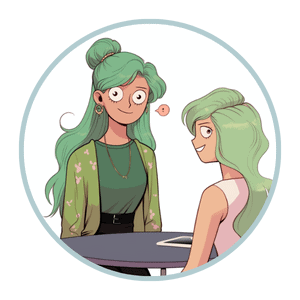 Sometimes you might just need a nonjudgmental ear to talk through feelings that need to be released.
The goal is to let go of toxic thoughts that no longer serve you and that you could totally forget about. Reduce any unnecessary stress.
When I was pregnant, I sought out therapy because I was feeling SO overwhelmed with pregnancy hormones, fear, and moving at the time.
I really benefitted from two women (one was an INTP and the other was an ISTJ) who taught me great emotional coping skills. Those therapy sessions felt like being coached about how to better process heavy emotions.
If you ever do decide to invest in professional help, find a therapist that feels safe, rational, and comfortable and schedule support as soon as you think it could benefit you. (Sooner is better than later!)

Conclusion
In summary, the 7 tips for prioritizing self-care to be a healthy INFJ are:
Prioritize alone time (schedule regular solitude to process everything and decompress)
Practice emotional boundaries (don't take on the stress of the world)
Engage in creative outlets (you could even experiment with becoming a freelance writer, doing tai chi, publishing your own book or website, or trying other ideas!)
Establish a supportive social circle (friends & family that genuinely spark joy when you connect to them)
Embrace nature and mindfulness (relax into feeling your physical body)
Set realistic expectations (practice forgiveness, grace, and better planning at systematic execution of tasks to progress towards goals)
Practice self-compassion (learn to love yourself; I highly recommend trying Mirror Work)
If you're an INFJ, you need to prioritize your wellness and practice self-care regularly so that you can really use your mind to your highest capabilities in a satisfying way.
You have a lot to offer the world and in order to give it your best, you have to rest enough, reduce stress, and put yourself first.
As a result, you will be able to focus with better clarity and have more fun bringing life to your ideas. Overall, self-care will help you to have the energy to become your best self possible.
If you enjoyed this blog post, you might enjoy these other posts as well…
FAQ on Self-Care for an INFJ…
How can I help myself as an INFJ?
As an INFJ, learn to prioritize yourself. Practice self-care daily and develop routines for alone time to recharge and maybe even an energy-clearing ritual to help you feel refreshed. Stop trying to solve problems that are not your responsibility to solve. Find trusted friends that you can truly open up to and talk to in meaningful ways. Commit to giving yourself time for creative projects that inspire you. Learn how to connect to your physical body to get out of overthinking loops. Have grace for your limits and seek professional support when necessary.
How do you recharge an INFJ?
You need lots of alone time as an INFJ, or at least enough to where you don't feel overwhelmed by all of the information you are trying to process. Recharge through journaling, napping, or any self-care activity you prefer. Other activities could be walking in nature, listening to good music, or having fun doing art and creating something.
How do INFJs heal?
INFJs are one type that will go through a genuine dark night of the soul and experience a spiritual awakening. Healing does not happen overnight, but can definitely be achieved through introspection, self-awareness, and the pursuit of new goals. Accessing external support, whether from one's community or from professional help can be a real turning point to healing. It depends on what the INFJ needs to heal from. If it is from unequal relationships, practicing personal, energetic, and emotional boundaries will help. If it is from childhood trauma, therapy could be useful to process any heavy baggage or feelings of grief.