101 Greatest HOSPITAL SNACK IDEAS 2023 (Yum!)
Are you looking for the most convenient, delicious, and healthy(ish) snacks to pack for a hospital trip? Do you need some inspiring hospital snack ideas?
This article will give you a great snack to pack for an upcoming hospital stay!
Why prepare snacks to pack in your hospital bag?
When you know you have an upcoming hospital stay (such as for labor and delivery of a new baby or for medical surgery), packing good snacks is an excellent addition to your hospital bag checklist. You can save money and prepare better options than what might be available in a vending machine. Hunger is the last thing you want to worry about while at the hospital, so here are some of the best snacks for the big day away!
The most important thing is that you have food available in your hospital room (or birth center) so that it can maintain your energy levels, protect you from uncomfortable hunger, and help you feel better sooner. You may be provided a full meal of hospital food at meal times, but small snacks are a great idea to bring in between.
Pregnant women in particular can really benefit from having their favorite snacks available. Labor is hard work and a great snack will help for a little boost of energy. When I gave birth to my son, my birth partner and I brought snacks that we had prepared a few weeks before my due date. I really appreciated those snacks during my hospital stay.
(Are you a soon-to-be new mom? Consider reading about 11 Most Helpful Breastfeeding Tips for Beginners: Essential Must Haves if you plan to breastfeed.)
This page may include some affiliate links, which if you choose to use will help support me with a small commission, at no extra cost to you!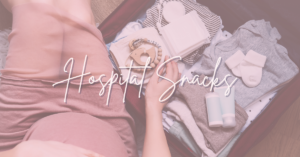 101 Best Hospital Snack Ideas
I have made this list of the best hospital snacks so that you can find your own perfect snack to order ahead of time or find your local grocery store. To keep things organized, I have categorized the type of snacks into convenient protein-rich snacks, energy-rich carbohydrates, sweets, drinks, homemade snacks, and unprocessed snacks.
Protein-rich Snacks
Because protein is an important essential nutrient!
Beef Jerky
EPIC Salmon Strips
RX Bars
Beef Sticks
EPIC Bison Bacon Cranberry Bar
EPIC Wagyu Beef Stick
EPIC Sriracha Chicken Bar (Spicy)
EPIC Pork Rinds
EPIC Uncured Bacon + Pork Bars
SNACK MATES Chicken & Maple Sticks
KALAHARI Biltong
Cheese
Cheese Sticks
Parmesan Crisps
BABYBEL
Yogurt
Protein Powder
Energy-rich Carbs
Some delicious hospital snack ideas for an energy boost when you really need it!
THE GOOD CRISP Potato Chips
Popcorn
Cauliflower Crisps
Avocado Oil Potato Chips
SIETE Tortilla Chips
Guacamole
Hummus
Salsa
Baked Chickpeas
FRIENDLY GRAINS Crunchy Rollers Organic Puffed Rice Rolls
MADE GOOD Cheddar Star Puffed Crackers
GIMME Organic Roasted Seaweed Sheets
TAO KAE NOI Thai Big Rolls Seaweed Snacks
ALOHA Organic Plant-Based Protein Bars
GOMACRO Organic Vegan Snacks Bars
YES BAR Black Sesame Sea Salt
SAHALE SNACKS Glazed Nut Mix
SIMPLE MILLS Sweet Thins Cookies Honey Cinnamon
MEZCLA Vegan Plant Protein Bars
DANG Coconut Chips
Siete Grain-Free Cinnamon Chips Churro Strips
Artisan Tropic Plantain Strips w/ Sea Salt
Artisan Tropic Cassava Strips
Savor Street by Suzie Pretzel Twists
Sweets
In your time of need, your favorite snack is a great thing to have on hand!
Emmy's Coconut Cookies
YumEarth Organic Lollipops
SmartSweets Sour Blast Buddies
Bare Baked Crunchy Apple / Banana / Coconut Chips
Honey Stinger Organic Gluten Free Salted Caramel Stroopwafel
Supernola Organic Vegan Paleo Crunchy Clusters
SmartSweets Red Twists
SmartSweet Peach Rings
Gummies

Lily's Gummies
SmartSweet Gummies

Siete Grain-Free Cinnamon
Heavenly Hunks Oatmeal White Chip
Goodie Girl Cookies
MadeGood Soft Baked Chocolate Chip Cookies
HighKey Snacks Keto Low Carb Food Chocolate Brownie Cookie Bites 
LIEBERS Thin Chocolate Rice Cakes
Shibolim Sugar Free Chocolate Covered Rice Cakes
Cascadian Farm Organic Chocolate Chip Granola Bars
Caveman Dark Chocolate Almond Coconut Bar
UNREAL Dark Chocolate Coconut Bars
Evolved Chocolate Hazelnut Flavored Keto Cups
UNREAL PB Cups
UNREAL Almond Cups
UNREAL Gems
Bark Thins
IQBar Matcha Chai Keto Bar
Raaka Chocolate Green Tea Crunch
Drinks
Don't forget to stay hydrated too!
Body Armor
Olipops
Smoothies
Cold Pressed Juices
Unprocessed Snacks
Convenient because you can just buy straight from the grocery store!
Apple
Banana
Blueberries
Raspberries
Strawberries
Organics
Carrot Sticks
Cucumbers
Macadamian Nuts
Pecans
Almonds
Walnuts
Sunflower Seed Butter
Peanut Butter
Almond Butter
Homemade Snacks
Can be super comforting, but only if you have the time before & want to!
Hard Boiled Eggs
Egg Bites
Deviled Eggs
Energy Bites
Fat Bombs
Cookies
Trail Mix
Overnight Oats
Banana Bread
Zucchini Bread
Sandwiches
Sticky Rice Balls
Onigiris
Cold Pizza
Overall, I hope these 101 hospital snack ideas helped you!
If you know you may be staying a long time, consider bringing a variety of snacks. (You could even consider bringing a small cooler with ice packs!)
Full Disclosure: This page may include some affiliate links as I am an Amazon Associate. This means that if you click and buy one of the products I have linked, I may receive a small commission for the sale from Amazon, at no additional cost to you! This helps to support me to keep writing awesome article posts & shows me that my hard work is appreciated by the reader. Thank you so much!